Paul Theroux – Riding the iron rooster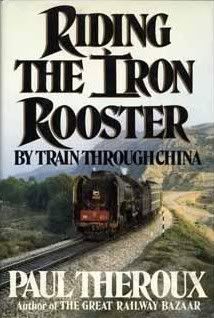 Paul Theroux – China per trein
For the younger generation he is the father of Louis. For the oldies he is the best travel author in the world. Actually he is both. He is a typical loner who loves to travel his own way and doesn't like advice or rules from others. That makes him sometimes cynical, but always honest and open. If something resembles a tourist trap, he will avoid it or just say it isn't worth it.
Several of his books have found their way on my bookshelves, also some of his fiction. Not bad either, but I certainly prefer his travel books. This story starts on a group journey from London through Paris, Berlin and Moscow towards Mongolia, the author already could have written a whole book about his trip and his fellow passengers before he actually enters China on page 66.
Theroux takes time to get to know a destination. He is not there to write an article, to see some highlights; he is there to understand a place, to get a feel for the country. This to me is the essence of travelling. Theroux will never be a tourist; he is the ultimate traveller. He even seems to read a bit of the language. Language is an important part of communication, to me an inevitable part. This is also the main reason that I have not travelled a lot in Asia. I love to be able to talk to locals in their own lingo. I can't do that in bad English.
Therefore I'm quite pleased that Theroux does travel there, giving me the opportunity as an armchair traveller to follow his expedition through a country that is not high on my to-do list. China is a world on its own; it is quite difficult to say anything that goes for the entire country. The differences between city and country, between north and south, between east and west are huge.
Often did I return to page 10/11 to have a quick glance on the map, to see where Theroux was at the time. I like him travelling by train, as it does give the book more depth, it tells me a lot more about the Chinese compared to taking flights within the country.
Even though it took me ages to read the nearly 500 pages of this book, the book doesn't get boring. It does get confusing at times though, but that is mainly because of my lack of knowledge before reading this book. There are cities in China bigger than most big cities I know, yet even though a few million people live there, I had never heard of the place and, dare admitting it, have since forgotten the name again.
Theroux is cynical at times, especially as he encounters the lack of liberty he likes. He gets chaperoned and is incredibly annoyed by that. I can imagine as well. Not sure how these days travelling in China goes, though in the eighties when he wrote this volume, the world had a completely different look, the political climate was a bit different from what we know these days.
Yet, even given the troubles he encounters wherever he goes, he makes the most of it and manages to get to know big parts of the country. His eye for detail, a great memory, everything he notes must be jotted down soon afterwards, makes this book a great read. I have thoroughly enjoyed reading it and hopefully will read many more travel book by Paul Theroux.
Quote: "Wanneer een land brulde dat het tot de laatste druppel bloed zou vechten, betekende dat meestal dat het op het punt stond zich over te geven; en in China kon je over het algemeen niets als waar beschouwen totdat het onkend was. Alles wat officieel ontkend werd, was waarschijnlijk waar."
Quote: "When a country screams that it would fight until the last drop of blood, most of the time this means that it was at the point of surrender; in China nothing could be considered the truth until it had been denied. Everything that was officially denied was probably true." (p. 136)
Number: 10-069
Title: China per trein (Orig.: Riding the iron rooster)
Author: Paul Theroux
Language: Dutch (Orig.: English)
Year: 1988
# Pages: 496 (13420)
Category: Travel
ISBN: 90-450-0817-3
More Paul Theroux
:
Riding the iron rooster
Review 1
Review 2
Download
Fansite
WikiPedia
Other books by Theroux read by me
:
Slow trains to Simla
The Mosquito coast
Soerabaya